Perfect Small Freestanding Tubs
Amazing Small Freestanding Tubs
Freestanding soaker tubs can transform a bathroom, making it stand out with an amazing, aesthetic simplicity like no other bathroom addition. These soaking tubs come in an array of sizes and shapes as you will see in our curated offerings. And with added accessories you can turn free standing tub into a getaway – even if for a moment.

WOODBRIDGE Acrylic Freestanding Bathtub Contemporary Soaking Tub
| | | |
| --- | --- | --- |
| | Made of high gloss white acrylic and top-quality material, this product is luxurious and comfortable, yet economical. The two layers of acrylic gives maximum insulation to your water at the desired temperature. Cleaning is easy, as it is stain-resistant and scratch resistant, thereby guaranteeing a long-term use. If an elegant and sophisticated modern bathtub made for relaxation is what you are looking for, consider this product your best bet! | |
FerdY Acrylic Freestanding Bathtub White Modern Soaking Tub
| | | |
| --- | --- | --- |
| | The FerdY Freestanding Bathtub's 58 gallon capacity will give you the ultimate relaxation you deserve. The bathtub can rest conveniently on one side of your bathroom, or stand alone anywhere to compliment the overall design. You no longer need to worry about overflow or spillage, and the double drain lets you empty the tub fast. A wide, deep bathtub that lets you enjoy your precious bath time. | |
VEBA 47 inch Acrylic Freestanding Tub, cUPC Certificated, Mini Free Standing Bathtub
| | | |
| --- | --- | --- |
| | This Japanese soaking tub inspired tub by Veba is 100% acrylic, comes with adjustable leveling feet for stabilizing the tub on any surface. Double walls makes gives this free standing tub good thermal insulation. Uniquely designed round shape and top-quality to maximize comfort. Comes with stainless steel polished overflow. | |
Mendham Collection Luxury 60 inch Freestanding Tub
with Vintage Tub Design and Pedestal Base
| | | |
| --- | --- | --- |
| | A five-star rated and complete positive reviews! The King is here! Offering a total immersion sumptuous experience that keeps your body comfortable and relaxed. the tub design is further consolidated on with a white plinth base. The impervious sheen on tub ensures it stays clean. This tub will definitely steal the focal point of any bathroom! | |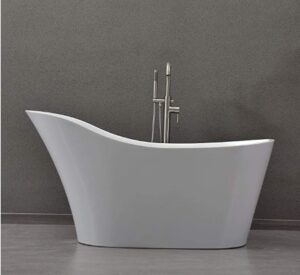 Woodbridge 59″ Acrylic Freestanding Bathtub Contemporary Soaking Tub with Chrome Overflow and Drain
| | | |
| --- | --- | --- |
| | This small freestanding soaking tub from Woodbridge is durably made. Full fiberglass construction with acrylic topcoat for high durability and shine. Formed with two layers of acrylic, bringing maximum insulation and keeping water at its desired temperature longer while soaking. Wide, deep tub with a gentle slope that offers a more comfortable, leisurely soak. A good product with a good price. | |
FerdY 59″ Luxury Freestanding Soaking Bathtub, with Sloped Lumbar Support
| | | |
| --- | --- | --- |
| | The unique design can be the spotlight of your bathroom, standing alone in the room and directing the beauty flow of other bathroom accessories. The high, sloped back and raised sides of the tub will make your bath relaxing and sensational, and the levelling feet ensures the beauty stands anywhere. Overall quality of the tub is great. | |
VEBA 39 inch Mini Freestanding Soaking Tub
| | | |
| --- | --- | --- |
| | You prefer cozy and stylish? Go for this 39 inch small freestanding soaking tub. Thanks to the glass fiber insulation layer, this baby can keep your water warm or cold, or however you want it, for a long time. The drain and overflows are well placed to give you total control of your bathroom water flow. Adjustable leveling for stability on any surface. | |
MAYKKE Barnet 61″ Modern Oval Acrylic Bathtub
Freestanding Soaking Tub
| | | |
| --- | --- | --- |
| | Comfortable bathing, useful overflow and polished chrome pop up brass drain! The freestanding tub is no doubt everyone's choice. Promising a total immersion and soaking which gives you your own spa experience. A DIY installation, all you need is freestanding tub filler, and probably a few minutes on YouTube. | |
Small Freestanding Soaking Tub
With Caddy And Tub Filler Package
FerdY Freestanding Tub Combo Package
Bathtub – FerdY 538 freestanding bath offers gracefully sculpted curves that cradle your body as you settle in for a deep and restorative soak. The cast resin material allows for geometries with dynamic style and crisp, hand-finished detail rich with character. FerdY gloss cast resin is lightweight and easy to clean, with a high-gloss finish.
With a Tub Filler – Modern and minimalist style floor-mount tub filler trim brings sophistication to your bathroom with a defined profile and sleek, integrated handshower. Chrome coating finish resists corrosion and tarnishing.
With a Caddy Tray -Bamboo bathtub caddy tray with book and drink holders offers you ultimate relaxation.



The Beauty Of Small Freestanding Soaker Tubs
Bathroom essentials have been under constant development over the past few decades. This fixture has been transformed from what we use to know to something unique. Specifically, the way bathtubs are made have been transformed from being just a functional fixture to being the main focus of the bathroom.
Today, there are numerous stylish and befitting options that will surely fit your specifications. Choosing of the numerous freestanding tubes comes with its various features and uses. It all depends on if you love the curves that come with a freestanding tube or you prefer the regular space design of a built-in.
A freestanding tub is a well-known bathtub type that is designed and finished throughout its sides to stand on its own. These pieces of the freestanding designed tub have gone from being a tub for bathing only to being a piece of art in your bathroom. Irrespective of which size of these freestanding tube you go for, freestanding tubs in your bathroom function more furniture other than an actual bathtub.
The beauty of owning a small freestanding tub is chiefly the flexibility in its placement, among others. Due to their unique feature of being finished on all sides, a small freestanding tub can be placed just about anywhere in your bathroom. Being the center of attraction, these small freestanding tubs can even be placed at the center of the bathtub if desired.
Interestingly, owning a small freestanding soaking tub also brings out the decorative work of art impact on your bathroom. It all depends on your taste in design and the finishing, but small freestanding tubs are specially made for this purpose. This is due to its sculpture design and the various visual statement it pronounces.
How To Get The Most Enjoyment Out Of Your Freestanding Tub

Different freestanding tubs offer a wide range of features. To get the maximum satisfaction from these products, numerous added accessories can enhance your enjoyment while using the freestanding tubes. Some of the added accessories you can equip your freestanding tub with include:
This provides an in-line heater that warms up the water and prevents heat loss. There is also an in-built silent motor technology to reduce the noise from the jets. It also provides multi-speed adjuster, foot massage jets on an underwater mounted footrest, micro bubble jets for that champagne-like experience.
These are LED lights with different color installed for underwater light effect. You can choose your favorite color to deliver that relaxing experience.
Resonating sounds are sent through the water and all over your body. These music speakers are properly placed to enhance that relaxing feeling you are looking for.
You can control what happens with an in-built digital touchpad. You can use it to control the temperature, jet speed, and direction of flow. You can also control the color and music sequence.
Different Types Of Freestanding Tubs
This depends on the personality of the owner. There are different types of freestanding tubs on the market. All these are unique for the use and space availability in the bathroom. Some of the types include
Single-ended freestanding tubs
Single slipper freestanding tubs
Double-ended freestanding tubs
Double slipper freestanding tubs
Clawfoot freestanding tubs
Pedestal/Skirted freestanding tubs
Japanese soaking freestanding tubs
Top Ten Ideas To Enhance Your Freestanding Bath Tub Experience
The idea behind a bath instead of a shower is to relax and soak your body after a long day or just for the sake of it. Your bathtub time doesn't have to be boring. There are so many ways to enhance your bathtub time and we've compiled ten (10) tips just for you!
1. Bath Tub trays
A bathtub tray or caddy is a great idea for your bathtub. You don't have to worry about hopping out intermittently for bathing accessories and other things you like to have in handy during your bath. You can keep everything from your books, magazines, wine glass and gadgets like your mobile phone and Bluetooth remote control on it while you enjoy your bath.
2. Bath Beads
Bath beads are one of the most inexpensive things to use during your bath time. These beads come in small and big sizes and leave your body with a calm and soothing feel. You must ensure that your bath water is warm enough so they can dissolve, then you toss them into the bathwater and stir, and in no time, they start to take effect.
3. Portable Wine Glass Holder
If you have bought a bathroom tray that does not have enough space or provision for a wine glass holder, you can always use a portable wine glass holder. It can hold other cups and glasses due to its expandable size and suctions firmly to the tub above or just at the bathwater level, ensuring that the contents of your glass don't spill.
4. Indulge in Bath Salts, Bath Bombs and other Bathing Essentials
Bath bombs are bathing essentials that fizz out when they are put in your bath water, filling it with fragrance and essence that makes the water feel snuggly. Make sure to buy non-GMO and gluten-free products. With the correct ingredients, you can also make bath bombs by yourself. Other bathing essentials that help to soothe tension in sore muscles are bathing salts and bathing oils. There are several DIY salt blend ingredients that you can try for that restorative experience in the bathtub.
5. Luxurious Bathing Pillows
Because you'll be in a bathtub for a significant time and lying in one position for most of your bath time, it would be beneficial for you to provide some support for your neck and back when in the bathtub. Bath pillows are plush, mini pillows that can be used in the tub to provide comfort for you. This pillow comes in an adaptable size that fits into any bathtub shape. It is super relaxing and is a great addition to enhance your bathtub time.
6. Dimmable Light
Too much light can keep your body alert when it should be relaxing. Installing dimmable or color-changing light can help you stay relaxed and soothe your visual senses. If you would prefer to not have any form of electrical interference during your bath time, you can simply shut the blinds and light some scented candles.
7. Scented Candles
Need your bathtub naturally illuminated? Candles are certainly going to give you that effect. And even better? You can use scented and therapeutic types to get that all-round, spa-like experience during your bath time. Scented flavors range from vanilla to strawberries, and you can get aromatherapy candles with roots of eucalyptus to give you that stress-relieving feel.
8. Bathtub Lighting
This is another lighting hack that you can adopt. Bathtub lighting comes in several types, and you can get planetarium lights or even disco lights depending on your preference. Most lighting gadgets come in portable sizes that can be placed at the side of your tub, others are water-resistant and illuminate right from inside the water. It can be turned on and off at will too. An intriguing experience altogether!
9. Water-Proof Bluetooth Speaker
If you're a music buff who would usually do music in the shower and you'd like to enjoy music during your bath time too, you should install a wireless Bluetooth speaker in the bathroom. It is advisable to get a waterproof speaker to reduce the risk of water damage. This speaker can have a suction bottom for placement purposes or just be pre-installed into your home's speaker system.
10. A Full-Body Tub Cushion
If the pillow idea doesn't seem comfortable enough, a full-body cushion is something you can invest in. Many people don't like the ceramic feel of a tub and would rather the plush feel of a cushion. A full-body bath pad affords you comfort and many features like raised pillows and detachable suction cup holders to make your bath time superb.
Purchasing any of these items online is a breeze and in no time, you can also start enjoying an amazing bath experience!
How to Install a Freestanding Bathtub
by Badeloft | December 17, 2016
Jump to a specific section:
Before you begin installing your freestanding bathtub, it's important to have the proper materials on hand. Read our step by step instructions to install your bathtub. Start by gathering the materials and supplies, making sure the floor is leveled, determining the placement, prepping and cleaning the floor, and more! Adding a freestanding bathtub to your bathroom is a luxurious way to make a statement, while also providing you with the type of retreat you've always dreamed of. Freestanding bathtubs are among the most distinctive choices you can make, and you'll love the options available to you. Freestanding tubs can be modern, chic, and streamlined or more traditional looking. Going for a whimsical design or would you like something more sophisticated? The choice is yours. No matter which you prefer, your personality can come shining through.
If you're currently remodeling your bathroom or it's under construction, adding a freestanding bathtub is a relatively easy process. You could hire a plumber for the entire job, but if you have basic home improvement skills, you might want to install the freestanding bathtub on your own. Keep in mind that you may need a plumber to move the drain to the appropriate location. Please note that the drain must always be installed according to your local plumbing codes. A licensed plumber can help.
Material List
Cleaning supplies
Drain body
Pipe pieces
Level
Protective blanket
Cardboard
Silicone
Plumber's putty
Adhesive
Caulk
Step 1 – Gather your materials and supplies.
Make sure that you have everything that you will need in order to install your freestanding bathtub.
Step 2 – Make sure the floor is level.
Use your level to check the floor. Is it 100 percent level? You may need to level the floor so that the tub does not tilt to the side.
Step 3 – Determine placement.
You may already have an idea where the freestanding bathtub will be placed. Now is the time to finalize this decision. Luxury freestanding bathtubs can be placed virtually anywhere in the room such as in a corner, against a wall, in the center of the room, or beside a garden window. It's up to you, but you will need to have plumbing already in place. If the plumbing is not in place, you may need to collaborate with a plumber.
Step 4 – Prep the floor.
If you are placing the bathtub on an existing drain, skip to the next step. If you have a wood subfloor, trace the outline of your tub so you know what you're working with. You or your plumber will need to measure and cut a hole in it. This hole needs to be sized so that the drop in drain and plumbing trap fit appropriately. The open section of the subfloor will then need to be repaired. From there, use the included subfloor cut out a template to cut the hole for the EZdrop-in-drain. You'll need to attach this to the floor. A protective layer is included, covering the hole and keeping debris out. Complete the flooring as desired, making a note of the drain hole location. Next, cut a circular hole wide enough to expose the protective drain covering. Cut this covering way.
The process is similar to concrete floors, except you'll need to cut a channel in the concrete to accommodate the plumbing trap and the EZDrop in Drain. After installing these in the channel, you'll then fill it with concrete, finish the floor, cut the circular hole, and cut the exposed protective covering.
Step 5 – Clean the floor.
It's important to clean the area beneath the tub so that dirt and debris don't remain behind. You'll also want a clean work area, and your work area will be fairly large due to the size of the bathtub. Thus, we recommend cleaning the entire bathroom floor.
Step 6 – Place a protective blanket near where the bathtub will be placed.
You will soon lay the tub on its side, and this will protect its sides from scuffs.
Step 7 – Place the freestanding bathtub.
The freestanding bathtub comes with a pop-up drain kit. Double check the drain nut to be sure it hasn't come loose. Tighten if necessary. Double check the drain and waste location under the bathtub and make sure that they line up with the drain hole in the floor. You can do this by taking measurements of the drain location underneath the bathtub. Lay the tub on its side on the blanket. Use cardboard as needed for additional support.
Step 8 – Clean the drain hole.
The floor, in general, is already clean and dry, but what about the drain hole? You'll need to clean out any dirt and debris and allow to dry completely. Once dry and clean, squeeze a small dab of clear silicone around the drain body, passing it through the drain hole.
Step 9 – Prepare the drain tail piece.
Your Badeloft freestanding bathtub comes with a pre-installed pop-up drain. You'll need to attach the drain's tail piece to the bottom of the tub. First, place the plastic bushing on top of the tail piece and slide the nut up the tube. Screw it into the bathtub drain. Add lubricant to the rubber seal of the EZDrop in Drain.
Step 10 – Prepare the tub's base.
Add a bead of caulk all the way around the base of the tub. around the edge of the base.
Step 11 – Place the freestanding bathtub.
Carefully guide the tub into position and caulk the bottom edge of the tub where it touches the floor. Use a wet cloth to clean off excess caulk.
Next Steps
Now that your freestanding tub has been installed, clean up the work area, put your tools away, and admire your handiwork. Though we know it's tempting to fill it up and jump in, you'll need to wait at least 24 hours for curing. Now's a great time to take some photos and accessorize your bathroom. When 24 hours have passed, get ready for a delightful soak and enjoy!
To Wrap It Up
Exploring the wide range of freestanding tubs can be a little bit overwhelming. Knowing what options that you have and the need you want to meet makes it easier. The enjoyment you get from settling for a freestanding tub is second to none. Another great freestanding tub design is the vintage clawfoot tub. If you're seeking small bathroom shower enclosures click here.